Dedicated fiber connections 


within Business Campus Munich : Garching
Campus Fiber
Net-D-Sign Campus Fiber provides you with a dedicated fiber optic connection between different rental units within Business Campus Munich : Garching.
This type of fiber connectivity allows you to implement a powerful protocol-independent network connection that fulfills your individual needs and requirements.
We offer you tailor-made contract terms (i.e., matching the term of your office lease), reasonable and affordable pricing and short lead times.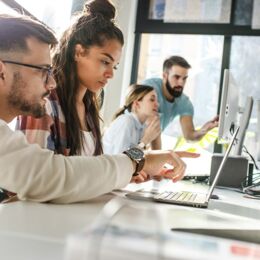 Our services
Dark Fiber: Your dedicated fiber connection through the Net-D-Sign network - multiple offices are connected as if they were one single office
Flexible bandwidths: Depending on the hardware and optics you use, the bandwidth is determined by you. Whether you need speeds of 1 Gbit/s, 10 Gbit/s or higher – the hardware you choose determines the bandwidth you can use.
Why you should work with us
In-house cabling included
Net-D-Sign will offer you connectivity right to your office – with one SLA that covers it all, including the in-house cabling which is often excluded in other ISPs SLAs.
Rapid Deployment
Most rental united at Business Campus Munich:Garching are already connected to Net-D-Sign's fiber network – not just the building. With in-house cabling already being in place, you can count on a quick and reliable deployment of your connection without unnecessary delays.
Personal Local Contacts
Net-D-Sign does not only provide you with one of the best network connections at Business Campus Munich:Garching, but also with a local presence on-site – we're ready to support you in case you need any assistance.
Dual entry in select buildings
Net-D-Sign can offer you tailor-made solutions for high availability with dual entry in select buildings. Edge- and node-disjoint paths can be provided at an additional charge to guarantee true redundancy if needed.
Do you have any questions regarding our fiber network, internet access or connectivity at Business Campus Munich : Garching?
Contact us at any time – we've got you covered.
Or feel free to fill out our form: