Make use of our fiber network 

to provide your customers with the right connectivity also on the last mile
Carrier Connect
No matter where you need a connection at Business Campus Munich:Garching - Net-D-Sign offers other carriers the use of its fiber network for connectivity covering the "last mile".
As part of a cooperation with Net-D-Sign, you benefit from one of the best network connections - and at the same time, you have a partner on-site to assist as needed.
You can choose between pairing our networks in Garching – or handing over your service in one of the three data centers in Munich where Net-D-Sign has a point of presence.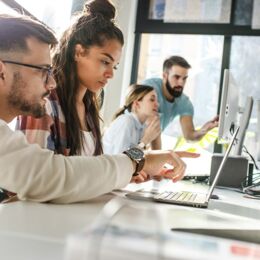 Our services
Dark Fiber: If you chose to pair our networks, you will receive dark fiber connections all the way to the rental units at BusinessCampus Munich:Garching. You can make use of the existing infrastructure, without having to connect the buildings to the network yourself.
Managed Service: If you chose to hand over the service at one of the data centers, Net-D-Sign will provide you with dedicated wavelengths in our fiber optic network for your service.
Easy setup: You don't need any site surveys to connect your customers - you can easily use the proven infrastructure of Net-D-Sign.
Why you should work with us
In-house cabling included
Net-D-Sign will offer you connectivity right to your office – with one SLA that covers it all, including the in-house cabling which is often excluded in other ISPs SLAs.
Rapid Deployment
Most rental united at Business Campus Munich:Garching are already connected to Net-D-Sign's fiber network – not just the building. With in-house cabling already being in place, you can count on a quick and reliable deployment of your connection without unnecessary delays.
Personal Local Contacts
Net-D-Sign does not only provide you with one of the best network connections at Business Campus Munich:Garching, but also with a local presence on-site – we're ready to support you in case you need any assistance.
Dual entry in select buildings
Net-D-Sign can offer you tailor-made solutions for high availability with dual entry in select buildings. Edge- and node-disjoint paths can be provided at an additional charge to guarantee true redundancy if needed.
Do you have any questions regarding our fiber network, internet access or connectivity at Business Campus Munich : Garching?
Contact us at any time – we've got you covered.
Or feel free to fill out our form: